The Right Bolts to Secure the Perfect Head Gasket Seal.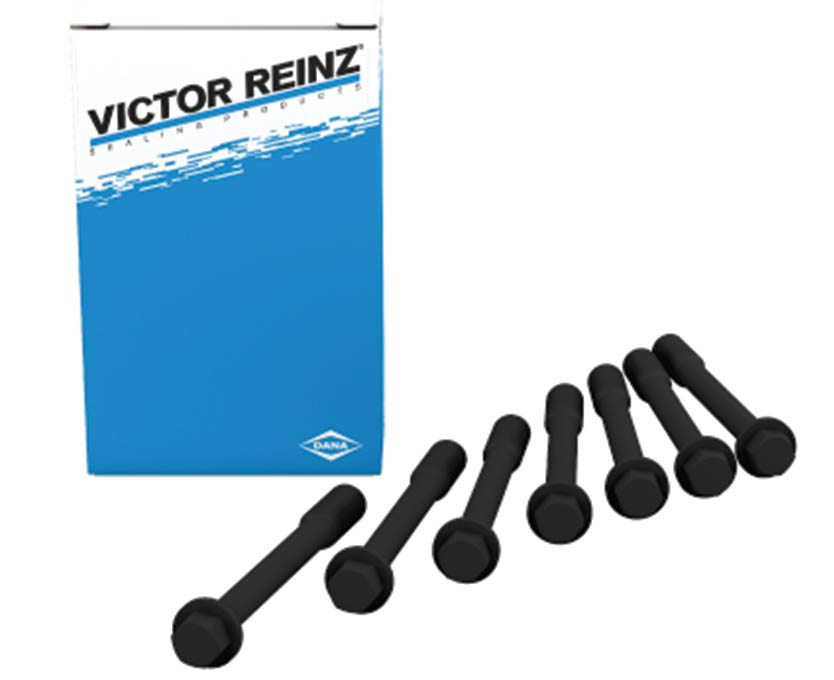 Guarantee a secure head-to-block joint with Victor Reinz cylinder-head bolts.  Victor Reinz head bolts comply with all manufacturer specifications, and are matched perfectly to our head gaskets.
Victor Reinz cylinder-head bolts are the connecting elements between engine block, cylinder-head gasket, and cylinder head, delivering the clamping force necessary to seal the combustion chamber as well as the oil and coolant passages—even at extreme temperatures and pressures.
Torque-to-Yield Bolts Deliver a Perfect Seal without Retorquing.
Using new head bolts for a cylinder head installation is always a good idea, however, on late-model engines that came from the factory with TTY (torque-to yield) head bolts, replacement is an absolute necessity. Torque-to-yield bolts are designed so that they can be elongated beyond their elastic limit into the plastic region without problems. When a specific tightening torque has been reached, the bolts are turned further through a defined angle, which pre-loads them into the plastic region. Consequently, no retorquing is necessary. Although it is a very effective means to get the maximum, uniform clamping load from each bolt, it permanently distorts the bolts, preventing them from being reusable under any circumstance.
Note: When reassembling a cylinder head, make sure the head bolts are designed to exact specifications by a manufacturer you can trust. Victor Reinz supplies gaskets and sealing products to OEMs around the world. They know the industry, and they know the precise bolts necessary to deliver a perfect seal.
Victor Reinz Head Bolts: Part of a Complete Line of Sealing Solutions.
Check out our streamlined ecommerce and parts locator platform DanaAftermarket.com, or visit one of our Distribution Partners below.