Better Performance from the Global Leader in Head Gasket Technology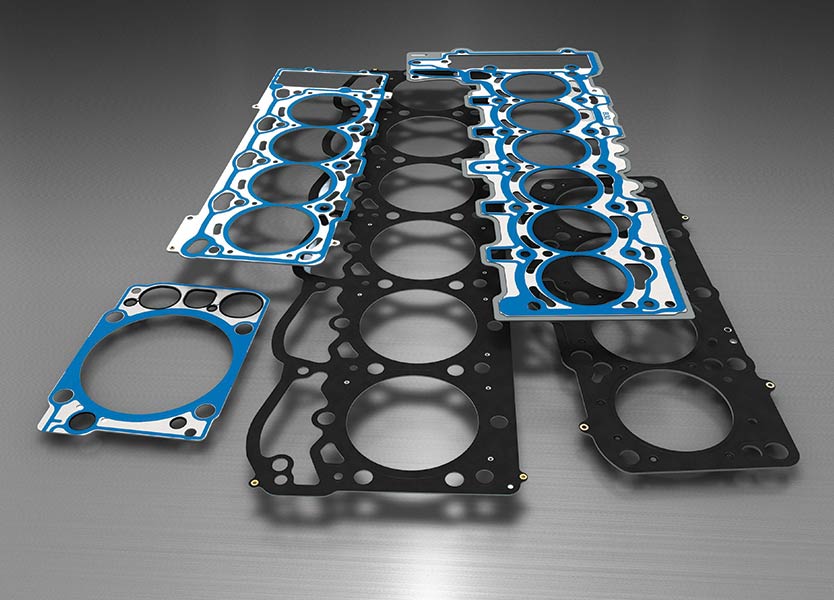 Victor Reinz supplies OE head gaskets to automotive and commercial vehicle manufacturers around the world. That means when you purchase a Victor Reinz head gasket, you can be certain you're getting the same sealing power that your vehicle had when it was new.
Our cylinder-head gaskets offer:
Secure, lasting macro and micro sealing
Protection against fuel, oil, water, and anti-freeze
Resistance to temperature differences and high-combustion pressures
Strength to compensate for component distortions
Shear and tensile strength in the web area
Effective transfer of bolt clamping forces
Victor Reinz MLS Gaskets for Optimal Sealing.
Multi-layer steel gaskets (MLS) from Victor Reinz are designed with two to five sheets of spring or carbon steel, sandwiched between the head gasket's sealing material. Precisely shaped beads and stoppers work with the specific steel properties to increase the clamping force around the combustion chamber and other critical locations (macro sealing). Complete and partial elastomer coatings provide additional tightness (micro sealing). For extreme application conditions, vulcanized and molded-on elastomer elements ensure reliable sealing of fluids.
MLS gaskets offer excellent durability and elasticity by combining:
Optimal sealing potential
Ability to seal engine designs with less than ideal bolt loads and locations
Extremely low compression set and torque loss
The preferred design when combined with Torque-to-Yield head bolts
Nitroseal® Expanded Graphite Head Gaskets from Victor Reinz.
The Victor Reinz aftermarket product line utilizes gasket designs that are most appropriate for each generation of engines. In the 1980s and 1990s, as engine production shifted from heavy cast iron designs to lightweight bi-metal engines (aluminum/cast iron), expanded graphite head gaskets were a solution to the new sealing challenge. Expanded graphite sheets are combined to a perforated steel core and compressed to the optimum density for performance on the engine. Steel fire rings (flanges) are added to combustion openings for tight sealing and protection of the gasket body.
Expanded graphite head gaskets offer:
Accommodation of head motion due to thermal expansion differences in cast iron engine blocks and aluminum cylinder heads
Reduced torque loss, compared to conventional composite gaskets.
Composite Head Gaskets from Victor Reinz.
The classic composite head gasket, generally specified for older applications, is a compressible flat gasket. It consists of a tanged metal core, onto which the composite material is rolled on both the engine block and cylinder-head sides. Metal flanges (fire rings) seal the combustion chamber and protect the composite material from overheating.
The material surface is treated for improved micro sealing and to prevent the gasket from swelling when it comes in contact with liquid media such as oil, water, or antifreeze. Additional elements, such as silk-screened elastomeric sealing beads, may be added to enhance fluid sealing.
The result is a head gasket that's:
An excellent choice for traditional cast-iron engines
Coatings, saturants, and sealing beads often included to enhance fluid sealing
Get the Cylinder-Head Gaskets OE Manufacturers Rely On.
Victor Reinz gaskets are now supplied directly into aftermarket distribution channels by their manufacturer—Dana Incorporated. You can be assured of getting Dana-backed quality from your gaskets by finding the Victor Reinz source nearest you.
Check out our streamlined ecommerce and parts locator platform DanaAftermarket.com, or visit one of our Distribution Partners below.