Including the Advanced PTFE Technology of Victor Reinz Oil Seals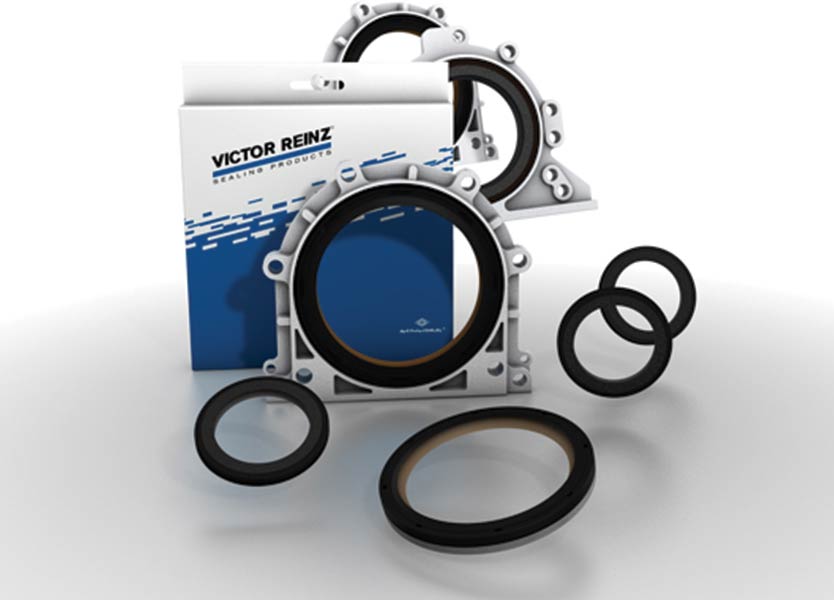 With Victor Reinz timing cover sets, you can protect your timing gears, chain, and belt with the same reliability we supply to original equipment manufacturers. In addition to the oil seal, Victor Reinz timing cover gasket sets include the timing cover seal and/or timing cover gasket specified for your vehicle. Victor Reinz rear main seal sets contain both the rear main seal/carrier and seal carrier gasket when required. Victor Reinz valve stem seals are engineered for precise control of valve stem lubrication – requiring very sophisticated designs that have to accommodate the full range of engine RPMs and operating temperature.
Victor Reinz Oil Seals Offer Optimal Sealing.
You might know it by a brand name for non-stick products, but in the world of gaskets we simply refer to polytetrafluoroethylene as PTFE, and it's setting a new standard in sealing for today's engines. Among the advantages PTFE offers:
Low friction
Minimum power consumption
Able to be used in applications with dry operation or insufficient lubrication
Excellent thermal properties

With an operating range of -130° C to +200° C

High chemical resistance
Low breakaway torque after standstill
Timing Cover Gaskets, Rear Main Bearing Seals and Valve Stem Seals OEMs Trust.               
Victor Reinz timing cover sets and rear main bearing seal sets are backed by Dana, supplying original equipment manufacturers the world over. Victor Reinz gaskets are now available in North America directly from their manufacturer, Dana. Download the literature above to see what sets Victor Reinz apart—then look for the Victor Reinz source near you.