Resist Deterioration and Precisely Control Valve Lubrication
PROBLEM
"A deteriorated valve stem seal allows oil to get sucked into the combustion chamber, resulting in a cloud of smoke upon start-up and excessive oil consumption."
SOLUTION
Victor Reinz® valve stem seals are precisely engineered for each application with high-quality materials to provide a long-lasting, reliable engine valve seal.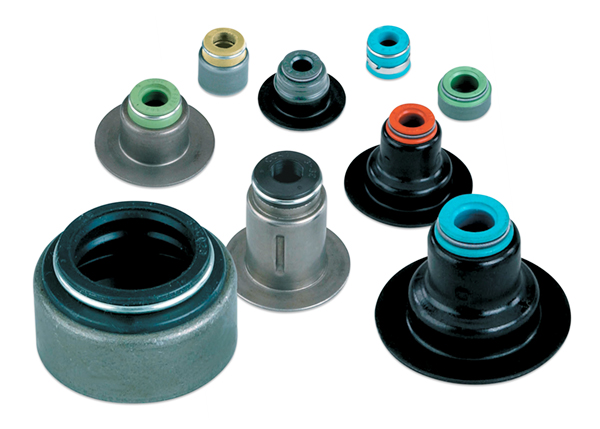 Victor Reinz® valve stem seals ensure that the correct amount of oil lubricates the valve stem. Our engineers select the ideal material for each valve stem seal based on the required temperature tolerance, strength, and oil resistance.
A properly-functioning valve stem seal precisely controls valve lubrication and oil consumption, and prevents oil from the cylinder head from entering the combustion chamber. A broken valve stem seal will permit the engine to draw oil down the guides and into the cylinders. Valve guides can suffer from inadequate lubrication or become swamped with excessive oil if the valve stem seal is worn or damaged. Victor Reinz high-quality valve seals provide a long-lasting seal, and avoid the premature hardening, cracking, and leaking that characterize an inferior valve stem seal.
Designed and manufactured with precision, the seal and valve spring seat are combined into a single component in certain Victor Reinz seals, so the valve stem seal is easily and securely fixed in the engine by the valve spring after installation.
Victor Reinz® valve stem seals prevent oil from the cylinder head from entering the combustion chamber
Most engines have valve stem seals on all intake and exhaust valves. Exhaust valve stems are subject to higher temperatures, so premium materials such as FKM are often specified. FKM—fluoroelastomer—offers exceptional heat resistance, so it is also the right choice for valve seals in late-model vehicles, which tend to run hotter.
Get Everything You Need for a Successful Valve Stem Seal Replacement
Each Victor Reinz valve stem seal kit contains enough engine valve seals to replace all the exhaust/intake seals on one engine. Special sets, requirements, or options for exhaust and intake seals will be noted in the corresponding literature.
Check out our streamlined ecommerce and parts locator platform DanaAftermarket.com, or visit one of our Distribution Partners below.