Wave-Stopper® Technology Provides a Superior Seal
PROBLEM
Not all MLS head gaskets are created equal. Gasket design, the use of quality materials and coatings and an "OE" level production process ensures performance you can count on. The problem is, it's hard to visually tell if you have the right part for the job–and your reputation depends on it.
SOLUTION
The innovative Wave-Stopper® design in gaskets from Victor Reinz uses embossed concentric "waves" to create a highly uniform seal despite severe service environments, providing even pressure distribution and preventing over-compression of the gasket's bore bead.
Dana is constantly working to bring to market new technologies that solve real-life, on-the-job problems, and the Wave-Stopper® is a gasket advancement that offers superior sealing properties. Victor Reinz® MLS (multi-layer steel) Wave-Stopper gaskets with Dana-patented technology meet the increased sealing requirements of today's head gaskets in both light and commercial diesel engine vehicles.
The Wave-Stopper is Designed Differently, to Be Better
The innovative Wave-Stopper design utilizes topography within the gasket structure to create a highly uniform seal. Specifically, several concentric "waves" are embossed in an active functional inner layer, preventing over-compression of the bore bead. The topography allows Dana engineers to vary the bead height between bolt spans, resulting in more uniform sealing stress at the combustion opening. Uniformity results in less bore distortion and improved piston ring seal. The Wave-Stopper layer acts a secondary combustion seal.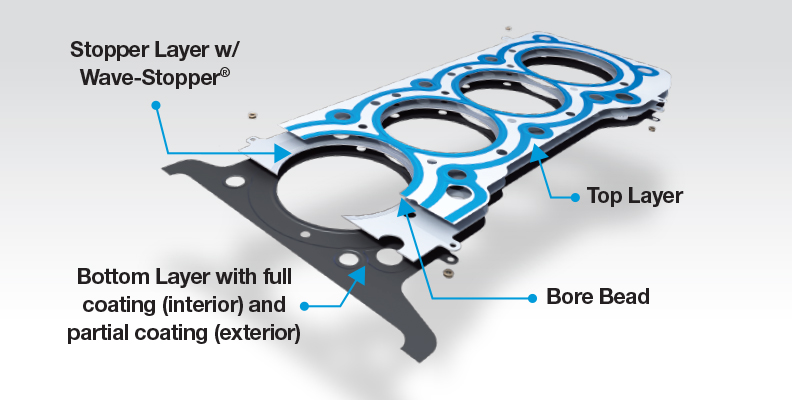 Victor Reinz MLS Wave-Stopper head gaskets have the features you'd expect from a manufacturer with over 110 years of sealing experience. Dana selects only the highest-quality materials to help ensure reliable, lasting performance. The Wave-Stopper is manufactured from full hard stainless steel, and premium FKM coatings provide enhanced fluid sealing. The materials utilized feature both plastic and elastic behavior, which can be matched precisely to each gasket's unique working environment.
Wave-Stopper Benefits
Waves adapt to changing component stiffness

Equalizes pressure peaks
Provides even distribution of pressures on adjacent components
Offers additional micro-sealing at the combustion chamber

Helps distribute the load balance between combustion and fluid seals
Allows for highly uniform loading of stress within diesel engines

Reduces oil consumption
Reduces bore distortion
Reduces overhead cam distortion
Prevents the over-compression of the bore bead

Highest-quality materials

Full hard stainless steel
Premium FKM coatings
Check out our streamlined ecommerce and parts locator platform DanaAftermarket.com, or visit one of our Distribution Partners below.